Top 7 Things To Do On Siesta Key Florida
Posted by John Allen on Wednesday, February 18th, 2015 at 10:41am.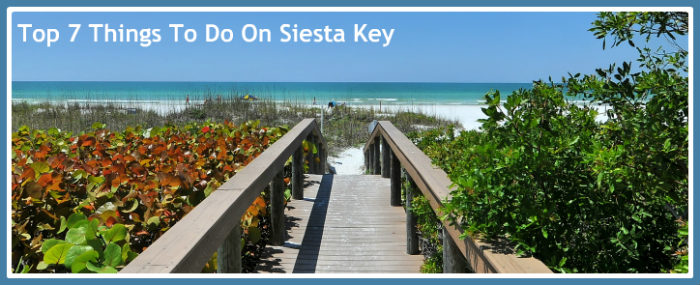 Interested in enjoying some sun in the fun on Siesta Key? Whether you are planning a vacation or relocating, here is our list of the Top 7 things to do on this slice of paradise!
1. Hit Americas #1 Beach

Siesta Key Public Beach embodies the very essence of a tropical paradise. This eight-mile barrier island is home to some of the most beautiful sands in the world. Siesta Key Beach, hundreds of yards wide, is comprised of some of the softest, whitest sand in the world. The ninety-nine percent quartz sand is not only beautiful, but also remains cool on even the hottest day due to its reflective nature. The widespread, shallow, shore coupled with year-round lifeguard protection makes this beach one of the safest on the coast. Guests of the beach also enjoy the many amenities offered including a public pavilion, showers, restrooms, concession stands, a shaded playground, picnic areas, sand volleyball, basketball, and lighted tennis courts.
2. Become One Of The Village People

The Siesta Key Village is the main commercial district on the island Siesta Key, filled with hundreds of shops, restaurants, local businesses and entertainment. Residents and guests love the laidback atmosphere felt through the island, allowing one to truly get away and unwind.
3. Livin' La Vida Local

What better way to enjoy the key than to relish in all the areas premium goods, including the fine selection of locally produced fare, arts, and crafts at the Siesta Key Farmers Market? Each Sunday morning from 8:00 a.m. to 2:00 p.m., join local restaurants, merchants, artisans, and farmers to mingle and shop at the Siesta Key Farmers Market.
4. Find Your Island Rhythm

Get your island groove on at the legendary Sunday evening Siesta Key Drum Circle. Join hundreds of percussionists, dancers, hula hoopers, and spectators as they gather to celebrate the spectacular Siesta Key sunset. Everyone is encouraged to bring their bongo, maraca, tambourine, or pair of kitchen spoons to join the fun. The celebration begins about an hour before sunset and takes place just south of the public pavilion between lifeguard stands 3 and 4.
5. Take A Water Adventure

From kayaking, paddle boarding, snorkeling, and dolphin encounters to jet skiing, parasailing and boating, Siesta Key Watersports offers rentals for every kind of water activity.
6. Explore The Island

Those who prefer an adventure of a different sort, on land, will enjoy the beautiful nature trails near the public beach area. Siesta Key Bike and Kayak offers a selection of bike, scooter, and scooter car rentals for a fun excursion throughout the key and beyond.
7. Building Castles In The Sand

Since its inception in 2010, The Crystal Classic Master Sand Sculpting Competition brings artists and spectators from around the world each year for an awe-inspiring annual event. Over the course of the four-day affair, the stunning Siesta Key beach undergoes a transformation into an outdoor gallery of sand-sculpted masterpieces. The sight is nothing short of magnificent, with some monuments standing over ten feet tall. This incredible display of artistry draws over 70,000 spectators each year. Yet, you do not have to be a master artist to give sand sculpting on some of the world's finest sand a try!
Source: SiestaKeyCondosforSale.com
Share This Content
4 Responses to "Top 7 Things To Do On Siesta Key Florida"
Leave a Comment